June's Limited Edition Gin is "Forest Shower
This month's gin is a green gin with the aroma of fresh greenery in the fields and mountains squeezed into the bottle.
YASO distiller Sugikawa was in charge of this gin.
Most of the wildflowers used were fresh ones Sugikawa collected in the mountains of Tanine in Kashiwazaki City, Niigata Prefecture.
Green aromas were extracted from sansho leaves, kakidooshi, peppermint,fig leaves, mitsuba, and kaya nut, to which juicy and citrusy notes were added with sansho pepper, hebes pulp, yuzu pulp, and kuromoji.
The image we had in mind was that of a forest in Yaneko, where the sunlight shines on the fresh greenery.
This is why we named this gin "Forest Shower".
The aroma of fresh new greenery in early summer and juicy citrus like the shining sun and babbling brook are perfect for the coming sweaty season.
When mixed with Fever Tree elderflower, the aroma of kaya nut spreads at once, creating a refreshing gin and tonic that makes you feel as if you are in the forest.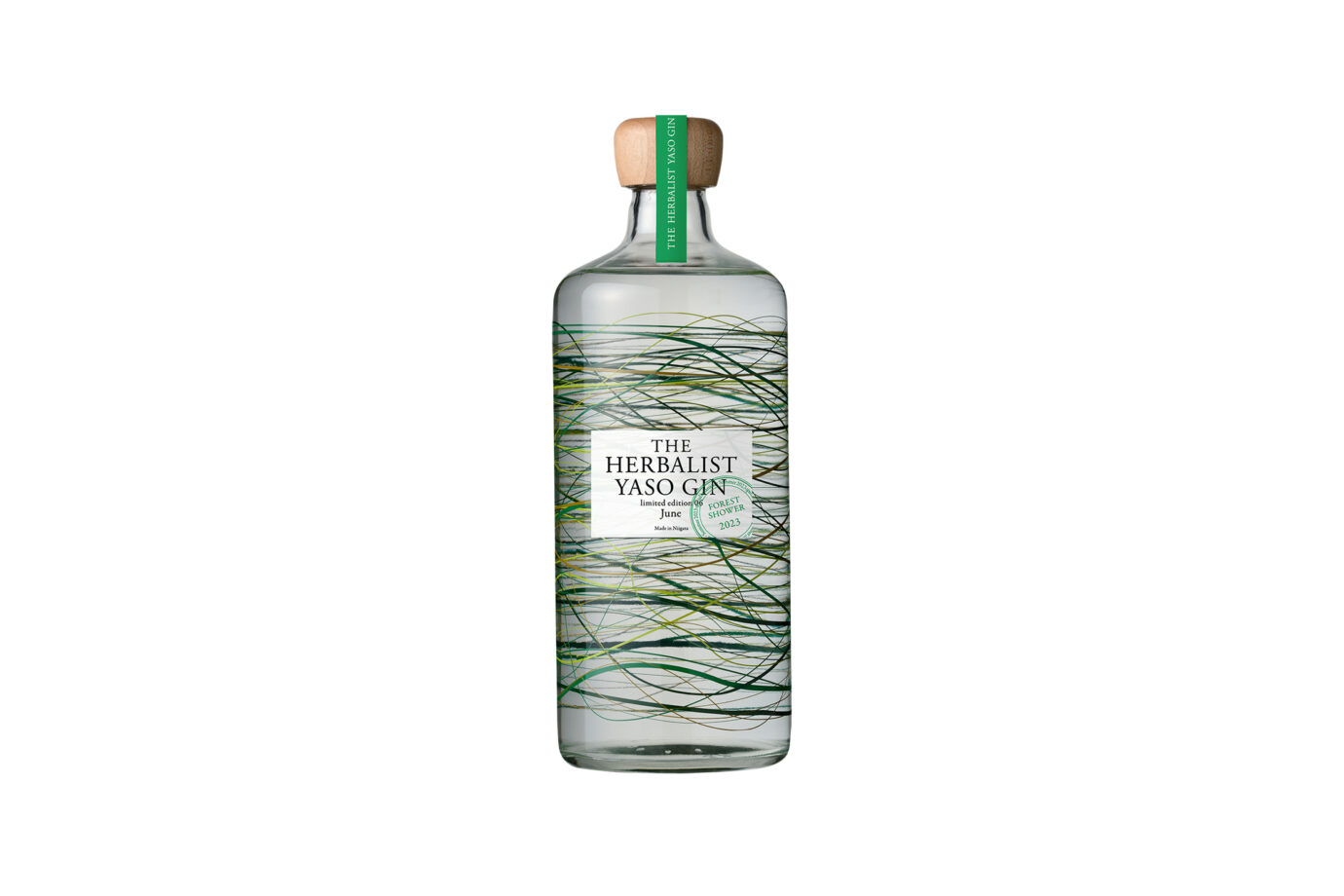 ※Sales will begin on May 15th at 12:00 noon.
 There is a limit to the number of units available.
〈Ingredients〉
[Wildflowers]
mugwort、turmeric、fish mint、lotus leaf、chinese ginseng、andrographis paniculata、St. John's wort、kuma bamboo grass、dandelion root、ganoderma lucidum、five-leaf ginseng、eucommia leaf、chinese plantain、licorice、pine leaves、Nandina leaves、solomon's seal、asiatic dayflower、new zealand spinach、maca、eurycoma longifolia、senna occidentalis、job's tears、field horsetail、loquat leaves、luo han guo、goji berry、alehoof、peach leaf、ginkgo leaf、japanese honeysuckle、fig leaf、safflower、siberian ginseng、Isodon Japonicus、nalta jute、japanese red elder、japanese mallotus、matrimony vine leaf、persimmon leaf、german chamomile、chinese quince、perilla leaf、mulberry leaf、nikko maple、panax pseudoginseng、platycodon root、jujube、salacia、silvervine、sicklepod seeds、red ginseng、almond mushroom、rooibos、amla fruit、onion skin、Cat's Claw
[Fruits]
japanese apricot、kumquat、fig tree、mandarine orange、apple、grape、melon、lemon、grapefruit、Apricot
[Vegetables]
chile pepper、ginger、shiitake、carrot、onion、parsley、cabbage、burdock、bean sprouts、garlic
[seaweeds]
sea kelp、endocladiaceae
[28 types of botanicals]
Juniper berry, hebes, yuzu, kayanomi, prickly ash, butterbur, kakidoosi, kuromoji, sansho leaf, mitsuba, hacca, ginger, cedar, fig leaf, coriander seed, fir, licorice, spring turmeric, fennel, caraway, orange flower, cardamom, clove, allspice, Jasmine, Echigo-Touki, celery seed, tea leaf
Contents: 700ml
Alcohol: 45%
・Drinking alcohol under the age of 20 is prohibited by law.
・We do not sell alcoholic beverages to persons under 20 years of age.
・Drinking alcohol during pregnancy or lactation may affect the development of the fetus or infant.